Back to the blog
Unreal Engine 4.26 update.
Epic Games presented another update for the world-famous game engine Unreal Engine, which is undoubtedly the most popular engine for developing games of all genres and types. The massive Uneral Engine 4.26 update contains a lot of new features, bug fixes, add-ons and much more.
We can mention particularly important changes that will be of interest to artists, not developers, such as the new water, volumetric cloud system and hidden features, such as logical modeling and light map baking on the GPU.
The most interesting new feature is the new water system, which allows artists to create anything from bodies of water to oceans. All of this is possible thanks to new sets of modeling, mesh building and rendering functions.
Level designers can use Water Body Actors to place water bodies in the environment, using a spline process to draw the shapes of rivers and lakes.
Water Body Actors can interact with the surface of the landscape, so the water should behave correctly and reach a new level of quality.
In Unreal Engine 4.26 hair rendering came out of beta testing, thanks to the new Groom Asset Editor workflow should be more convenient. It is now possible to edit hairstyles imported from other DCC applications in Alembic format, as well as to edit hair materials, and the results are displayed in a preview window with physics support.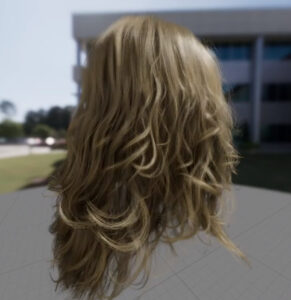 It's also worth detailing the new Unreal Engine 4.26 feature, which is a new "cinematic quality" cloud system. Unlike traditional systems, which are based on the textures of the sky domes, the results remain unchanged from both the air and the ground.
The new Volunetric Cloud component supports interaction with ambient lighting from the Sky Atnosphere component of the Ureal Engine, Sky Light and two directional light sources representing the sun and the moon. As a result, the clouds should generate believable shadows both on the terrain below them and within themselves.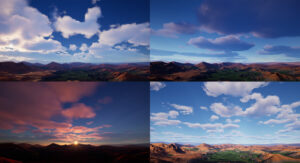 Movie Render Queue allows you to create high-quality anti-aliasing and motion blur images for film and TV, marketing and cinematography and, in addition, very high-resolution images for printing.
The Unreal Engine also now supports OpenColorIO. There is new support for multi-channel EXR exports, Apple ProRes and Avid DNxHR codecs, Final Cut Pro XML EDL files, and the ability to integrate render farms.
The update also includes a number of experimental features for animation and stage show previs, which you can read more about in the official documentation.
Unreal Engine 4.26 is available for 64-bit Windows, macOS and Linux. Using the editor and interactive rendering is free.
You may be interested in: